Lazarex Cancer Foundation
GOAL:
Increase visibility, educate the public about the problem with clinical trials and Lazarex's mission to increase enrollment, minority participation and retention.
PHILADELPHIA INQUIRER/10.8.2019
The one thing cancer patients often need to participate in clinical trials and the program that offers it.
FOX 4 DALLAS / 8.28.2019
New Texas law will help cover some costs for cancer patients.
Healthline.com / 8.5.2019
The hidden costs of cancer care
technical.ly Philly / 7.3.2019
Three orgs bringing accessible healthcare and clinical trials to West Philly neighborhoods.
survivornet / 6.19.2019
The cancer problem no one's talking about: the cost of traveling to clinical trials.
FOX5DC, Washington, D.c./6.18.2019
The issues with cancer research and what patients need to know.
KARE 11, NBC Minneapolis / 6.11.2019
Help from Lazarex Cancer Foundation allows family of 8 year old to travel to her clinical trial.
CENTER WATCH / June edition
Community, University, Industry partner to boost minority recruitment.
KABC 7 Los Angeles / 5.30.2019
IMPACT program created by Lazarex Cancer Foundation is helping under represented minorities access clinical trials.
outsourcing-pharma / 5.22.2019
Navigating trial enrollment roadblocks for underrepresented populations.
CLINICAL RESEARCH NEWS / 5.21.2019
Lazarex works to achieve minority equity in cancer clinical trials.
KTVU, Fox, San Francisco / 5.12.2019
Lazarex Cancer Foundation, Amgen and UCSF work together to launch IMPACT program to improve patient access to clinical trials.
LA OPINIÓN / 4.30.2019
Lazarex Cancer Foundation's IMPACT program has become the last hope for cancer patients.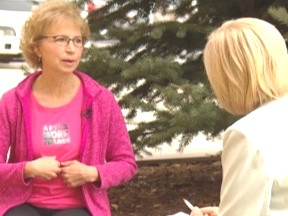 CBS DENVER, Colorado/4.9.2019
Cancer patients, desperate to find a clinical trial and a way to cover costs, are turning to a unique charity out of California.
Erie News now, NBC/11.1.2018
Lazarex Cancer Foundation responsible for new Pennsylvania bill intended to make it easier for cancer patients to say YES to potentially life saving clinical trials.
WHP21, CBS Harrisburg, PA/10.16.2018
HB126, written and supported by Lazarex Cancer Foundation paves a path for change and breaks financial barriers for cancer patients statewide.
concordia summit, New York city 2018/9.24.2018
Lazarex Cancer Foundation presents panel before thought leaders, international business leaders, government leaders, and influencers.
the COST OF PATIENT ACCESS/9.15.2018
Laura Evans Media produces Lazarex Cancer Foundation mission video; showcasing patient stories and highlighting the purpose and impact of the foundation.
SAVE MORE PODCAST/8.28.2018
How one group is helping advanced stage cancer patients say "yes" to hope through clinical trials.
FIERCE HEALTHCARE / 8.13.2018
Massachusetts is one of several states considering bill backed by Lazarex Cancer Foundation to improve patient access to clinical trials.
WUSA9, CBS Washington, DC / 6.25.2018
Inflammatory Breast Cancer. One patient's story about a clinical trial that saved her, and the Foundation that enabled her to take part.
DISRUPTING THE SYSTEm;a live panel event/ 5.8.2018
Thought leaders in cancer from across the country join to discuss the actionable changes that can and must happen now to improve patient access to cancer clinical trials.
SOCIAL INFLUENCER RECEPTION / 1.17.2018
Federal and local lawmakers, members of the media and healthcare leaders gather to learn about the mission of Lazarex Cancer Foundation and meet its founder, Dana Dornsife.
VOICE OF AMERICA, WASHINGTON, DC / 1.6.2018
Clinical trials and cancer patients, how Lazarex Cancer Foundation is working to create equal access for everyone.
Sun Chronicle, Boston / 12.03.2017
Guest column: Getting cancer patients to clinical trials helps everyone (ghost written by Laura Evans Manatos)
NBC NIGHTLY News / 10.10.2017
These Angel Sisters Have Helped 3,000 Cancer Patients Pay for Treatment
Wcvb, Boston / 10.04.2017
How One Organization is Helping Patients Get Reimbursement for Health Care Costs
the doctors / 09.27.2017
Lazarex Cancer Foundation Connects Flip or Flop Star with Clinical Trial
web md / 09.20.2017
Connecting People to Clinical Trials
The Hill / 09.05.2017
Opinion piece advocating for reimbursement of patient expenses
KNBC Los Angeles / 08.20.2017
Connecting Cancer Patients with Life Saving Clinical Trials
KNTV San Francisco / 08.09.2017
Three Sisters Bring Cutting Edge Hope to Cancer Patients for Ten Years
KTVU Oakland / 07.20.2017
Dana Dornsife booked as a live guest on the 4p News to discuss glioblastoma following John McCain's diagnosis
KCRA Sacramento / 07.18.2017
Cancer Patients are Critical for Successful Clinical Trials
Cancer Today Magazine / Summer 2017 issue
A New Look for Clinical Trials